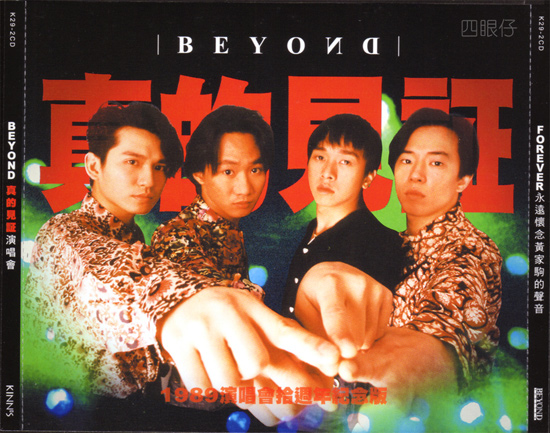 Beyond was a rock band from Hong Kong that was founded in 1983 and disbanded in 2005. Their last lineup consisted of Paul Wong, Wong Ka Keung, and Yip Sai Wing. 海闊天空 (Boundless Oceans Vast Skies) & 光輝歲月 (Glorious Years), by former member Wong Ka Kui, are two of their best known works. Wong Ka Kui was known for his distinctive vocal style, remarkable melodies, and meaningful lyrical themes.
Formed in 1983, the original members were Wong Ka Kui (vocals, guitar), Yip Sai Wing (vocals, drums), Lee Wing Chiu (Bass) and William Tang (Guitar). Ka Kui's younger brother Wong Ka Keung (vocals, bass) joined in 1984 followed by Paul Wong Koon Chung (vocals, lead guitar) in 1985. Other members for brief periods have included Owen Kwan, Chan See On and Lau Chi Yuen. Lau Chi Yuen left the band in 1988 to pursue studies in the US, then returned later, playing instruments and helping to produce 1998's Surprise.
Some of Beyond's very early works are in English, such as "Longway without a Friend" and "Myth". Beyond were initially part of the underground "band boom" which occurred in Hong Kong in the 1980s, alongside other groups such as Tai Chi, Tat Ming Pair, Blue Jeans, Fundamental, and Raidas.
After a couple of flops, Beyond started to gain popularity following the release of the song "Dai Dei". Beyond began creating music with more of a pop sensibility, unlike other bands from this "band boom" period. Beyond was successful in this and the next few albums contained several of the most important songs in the history of Hong Kong music.
In memory of the greatest Hong Kong band ever, BeijingImpact will have their concert online, please turn your volume up to max and enjoy the voice from Wong Ka Kui.
{youku}id_XMTk0MTYxMjYw{/youku}