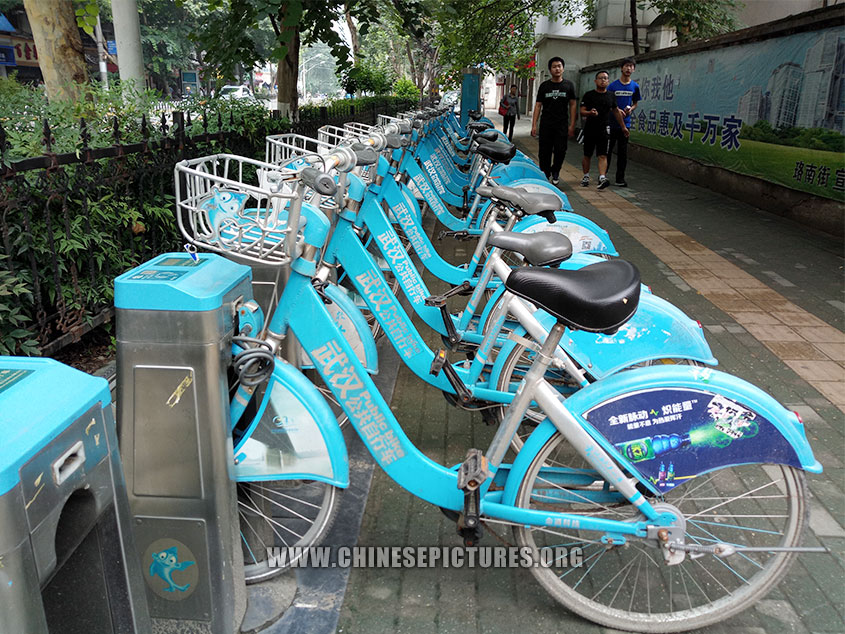 Wuhan Public Bicycle Dock photo was taken on 14th June 2017.
In order to boot the Green Economy, China encourages its cities to build public bicycle-sharing system which is supposed to reduce the use of private car, and eventually ease the pollution. Hangzhou Public Bicycle, the world's largest bike sharing facility, has bike stations in such abundance that one can travel the entire city on a bike for free, as the first hour of bike rental is free. Subsequent hours of riding the same bike can be availed at a very minimal cost.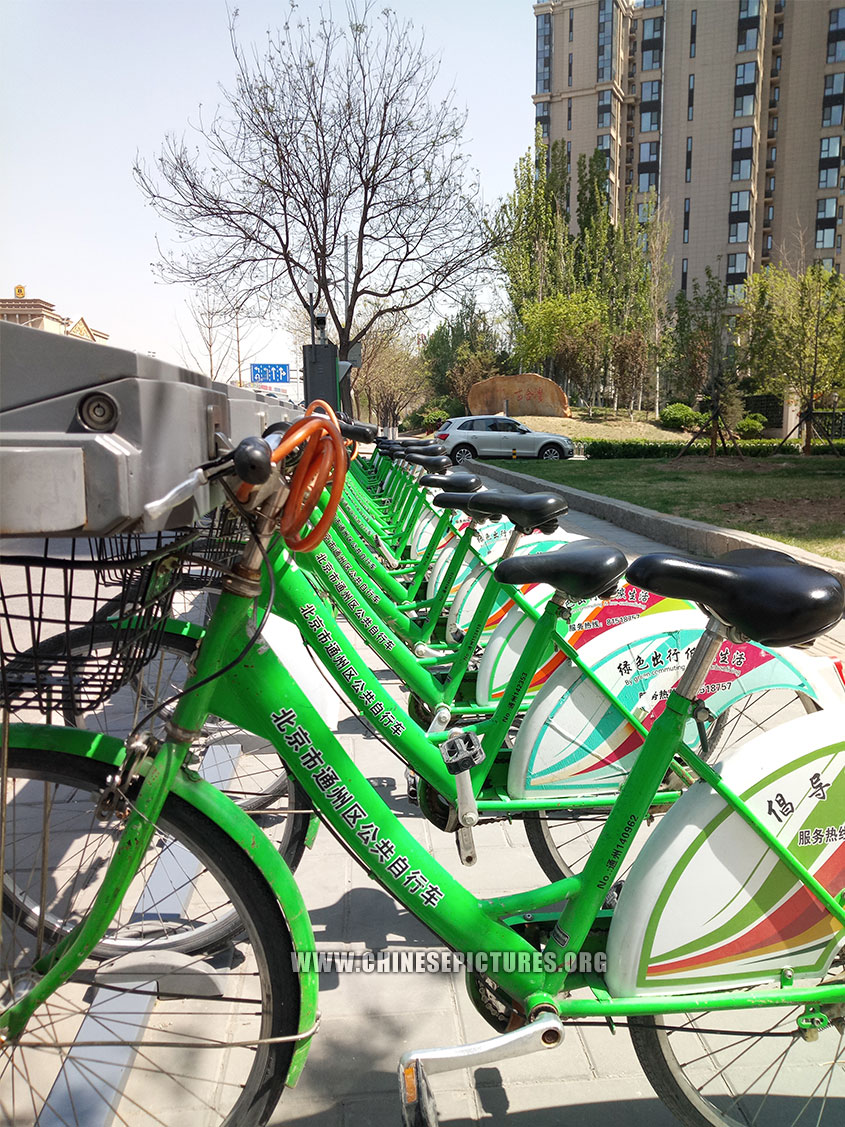 Tongzhou Public Bicycle is a bicycle sharing system serving the sub-center of Beijing.
Beijing run its public-bicycle system with 50000 bikes from Aug 2007. The system was shortly closed after Olympic Games 2008.
Hangzhou run its public-bicycle system from Mar 2008.
Wuhan run its public-bicycle system in 2009.
But the government run public-bicycle system faces financial criticism, the critics pointed out the unit-price of public bicycle is too high to keep the system running. For example, Hangzhou city spent 450 million RMB for 50000 public bicycles, that's about 9000RMB per bicycle. 20 times higher than common bicycles in the market. Take the dock, computer system, maintenance and relevant facilities into consideration, the cost is extremely huge. There is a smell of corruption.
---
Every public bicycle-sharing system has docks to park shared bicycles. but dock-less bicycle-sharing is much more popular in China's metropolises.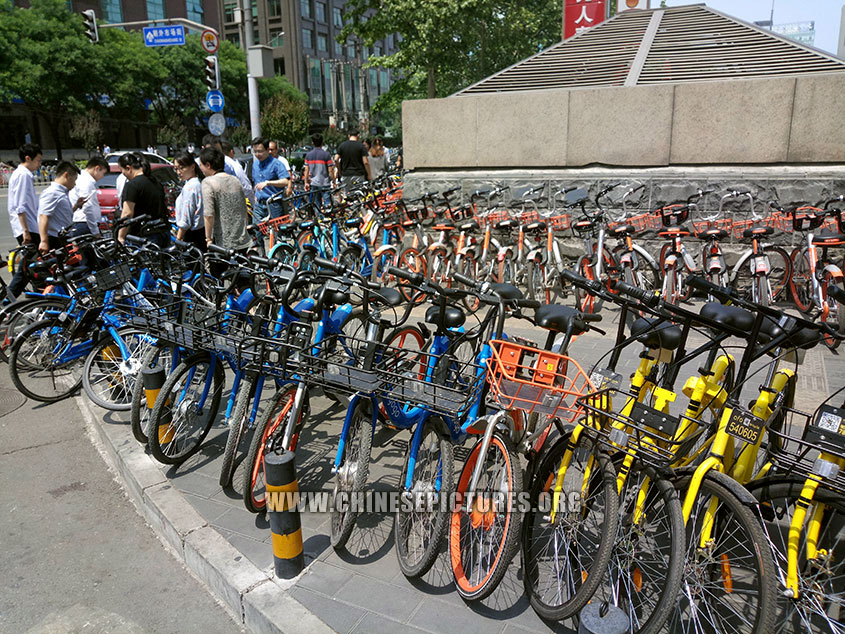 The photo was taken in May 2017, near Kuntai Hotel Chaoyang District of Beijing.
In China, the OFO (yellow), Mobike (Orange), Bluegogo (blue) are the top 3 dockless sharing-bike players. The massive growth in the number of these bikes causing clogged sidewalks in huge Chinese cities.
OFO is a dockless bicycle-sharing company which is said to be the world's first bike sharing company. According to Chinese news portal - 163.com - OFO is also the biggest bicycle-sharing company which has 6 million bicycles in its platform and operate in 100 cities among 4 countries. The dockless platform is committed to solving the traffic problem of urban congestion.
Mobike, founded and owned by Beijing Mobike Technology Co., Ltd., is a fully station-less bicycle-sharing system headquartered in Beijing, China. It is the world's largest bicycle operator, and in December 2016, made Shanghai the world's largest bike-share city.
Bluegogo is the smart station-free bicycle-sharing system headquartered in Beijing, China. Founded by Gang Li in November 2016, its operations covers 6 cities across China, including Beijing, Shenzhen, Guangzhou, Chengdu and Nanjing, it is also the first Chinese station-free bike share startup to be launched outside of China.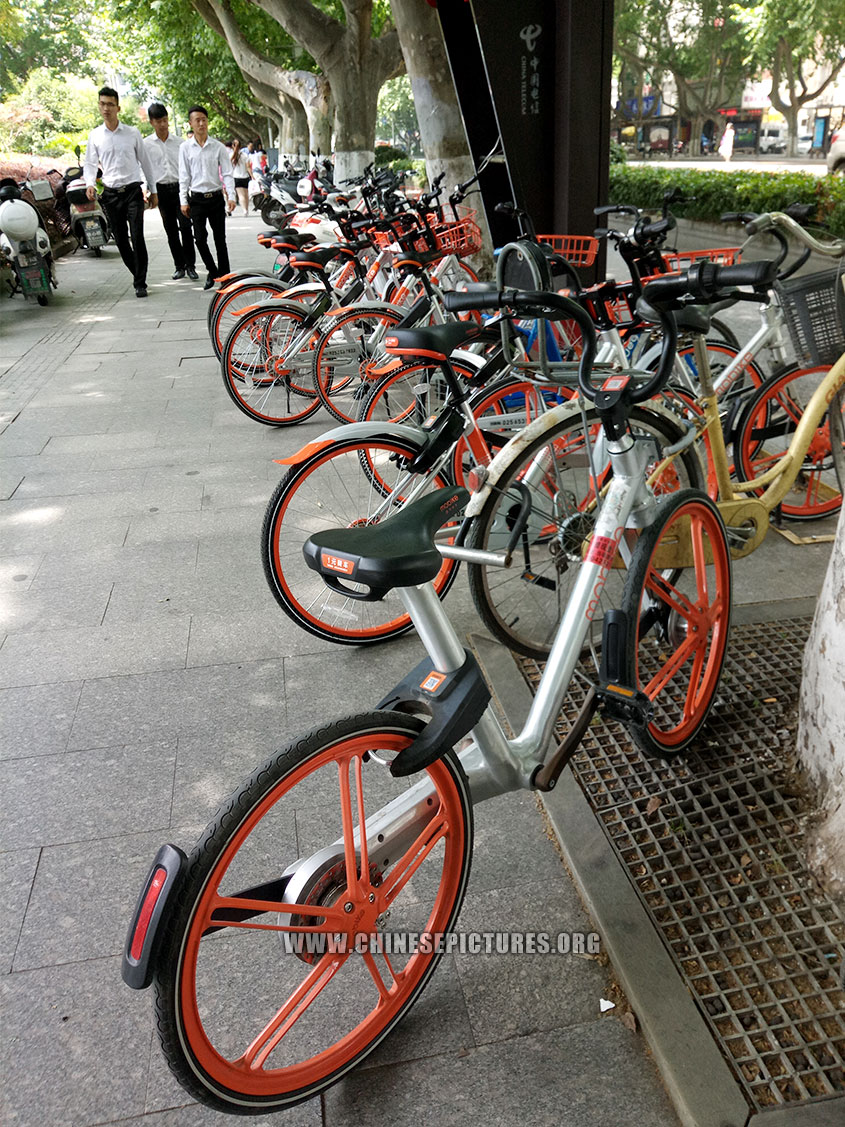 The photo was taken on 25th May 2017, near Xinjiekou station of Nanjing Subway Line 1.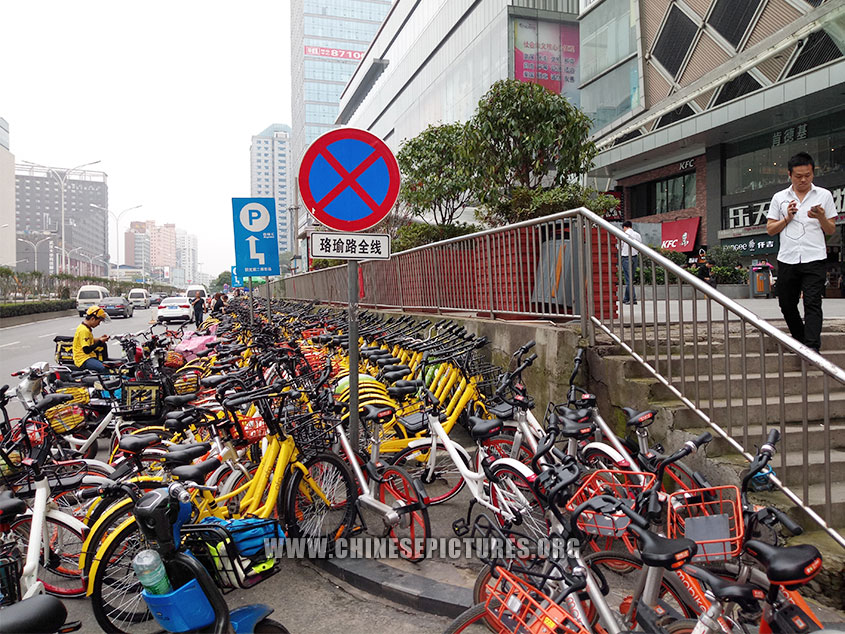 Wuhan Dock-less Shared Bicycles Photo was taken on 14th June 2017 near Wuhan New World Shopping Mall.
---
Why dockless shared bicycles beat public bicycle-sharing system in China?
| | | |
| --- | --- | --- |
| | Dockless shared bicycle | Public bicycle-sharing system |
| Dock/station | No | Yes |
| Park anywhere | Yes | No |
| Free Ride | Sometime | Free for 1st hour |
| APP control | Yes | Beijing since Dec 2016 |